Post by Makers on Apr 11, 2020 6:21:47 GMT -5
Thousand Words vulnerable in the Oaklawn Stakes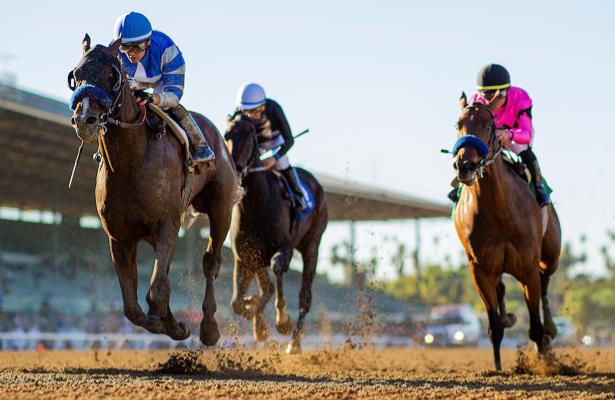 Bob Baffert will go down as one of the greatest horse trainers of all time. But not all of his runners are locks. Bettors need to use some caution before betting his entries, because in most cases the price remains low even if the form does not justify the odds.

Thousand Words has the markings of a vulnerable Baffert favorite in Saturday's $200,000 Oaklawn Stakes. His two wins in the Los Alamitos Futurity (G2) and Robert B. Lewis Stakes (G3), in hindsight, appear to have come against weak competition. Then he burned money at 5/2 in the San Felipe Stakes (G2) when finishing fourth, 11 ¼ lengths behind stablemate Authentic.

Instead, Taishan enters the weekend in sharp form after taking a local allowance optional claimer. He leads off five Oaklawn Park selections for Saturday.

Oaklawn Race 11: Oaklawn Stakes

Taishan won a local allowance optional claimer on March 14 by 4 ¾ lengths under mild urging. Over the sloppy track, he set the pace and repelled the bid of Captain Bombastic on the turn before drawing clear in the stretch. Previously, Captain Bombastic won the Sleepy Hollow Stakes and finished third in the New York Stallion Series Stakes.

For the win, Taishan earned a career-best 116 TimeformUS Speed Figure, adjusted down from a raw figure of 118.

One start prior to the race, Taishan could only manage a fifth-place finish in the Southwest Stakes (G3), 10 ½ lengths behind Silver Prospector. However, he bobbled at the start and endured a difficult trip throughout by going wide on both turns.

His fourth-place finish in the Sham Stakes (G3) is less forgivable. But perhaps Taishan needed a race to kick off his current campaign before getting serious.

Also, Taishan broke his maiden last November with a pressing trip, which shows some versatility. In the race, he defeated at least one notable name in Tizamagician.

Does Taishan need slop for his best effort? That's a fair question. As long as Thousand Words remains the favorite, though, taking the risk on Taishan translating his form to a dry surface is worth it. As a bonus, there is some rain in the forecast for the afternoon and evening Saturday.

Oaklawn Race 4: Allowance, 3-year-olds

If the track is fast or even good, Shooters Shoot gets the nod.

Toss out his two starts last year when he lost by double-digit lengths. Shooters Shoot clearly needed the learning experience.

In his season debut on Jan. 26, Shooters Shoot improved with a fourth-place finish in a maiden sprint at Santa Anita. He only lost by six lengths.

Shooters Shoot tried another maiden sprint on Feb. 16, and this time he turned in a winning performance by earning a 113 TimeformUS Speed Figure. Unfortunately, a future superstar in Charlatan dominated the race by 5 ¼ lengths with a huge 122 figure. Shooters Shoot had to settle for second, 7 ¼ lengths ahead of Lane Way in third.

In his most recent start, Shooters Shoot finally broke his maiden on March 15. Stretching out to a two-turn route for the first time, he set a comfortable pace and kept going in the stretch run, winning by 3 ¼ lengths with a 118 on TimeformUS.

Shooters Shoot could win with a repeat of his last race.

However, if the track is sloppy, then Blackberry Wine gets the nod. Blackberry Wine broke his maiden again locally over the slop by 13 lengths with a 119 speed figure from TimeformUS. In his first maiden "win" last November, he crossed the wire first over slop by 5 ¾ lengths.

Blackberry Wine loves wet dirt and probably wins the race if it rains, but otherwise, Shooters Shoot is the main choice.

Oaklawn Race 6: Allowance, 3-year-olds

Captain Bombastic finished second in the March 14 optional claimer won by Taishan. For the runner-up effort, he earned a solid 112 TimeformUS Speed Figure.

As stated above, Captain Bombastic also fared well in stakes company against New York-breds last year, winning the Sleepy Hollow Stakes and finishing third in the New York Stallion Series Stakes. Captain Bombastic earned a 101 in each of those two races, which means he moved forward as a 3-year-old with the 112 in his loss to Taishan.

Forget about the fact he is a New York-bred. This is a half-brother to Highway Star, who earned more than $1.3 million in her career.

Captain Bombastic also faces a weak field in this spot.

Even as the favorite, he is the choice.

Oaklawn Race 7: Maiden, 3-year-old

Earner finished second in his career debut on Jan. 18 at Fair Grounds. He lost by 2 ½ lengths to Echo Town with another six lengths back to the third-place horse.

Echo Town went on to finish third in a Feb. 23 local optional claimer. But he improved in his next start on March 13, winning by 3 ¾ lengths with a 112 from TimeformUS.

While Earner stretches out to a two-turn route in this spot, it is not supposed to pose a problem given his pedigree. His dam, Devious d'Oro, is a half-sister to Pioneer Spirit, an active dirt router who will compete in the $150,000 Oaklawn Mile on the same card. Furthermore, his sire Carpe Diem and damsire Medaglia d'Oro are both good route influences.

Notice the difference in TimeformUS class ratings between Earner's career debut and this field. TimeformUS rated the Jan. 18 race a 107 in terms of class, and this field only gets a 99.

Although he might start at low odds, Earner is the choice.

Oaklawn Race 12: Allowance, older horses

Two Emmys has enjoyed a consistent career at this point with a 7: 2-3-0 record. One of his misses came in his career debut, which is always forgivable.

He only owns one dirt start, which came on Feb. 9. He faded to second in that allowance optional claimer at Fair Grounds, losing by six lengths after setting the pace. But that lone try is enough evidence to give Two Emmys major consideration in this spot.

For one, he earned a 113 TimeformUS, a number good enough to win.

Also, he lost to By My Standards, who went on to win the New Orleans Classic (G2). By My Standards will likely enjoy a successful year competing in various, high-level graded stakes races.

From Post 12, Two Emmys will either press the pace or lead. Without a By My Standards type of rival present, he can last longer this time.